SIAA July 2019 Newsletter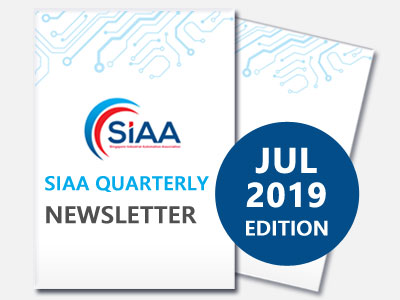 In this issue:
UK Tech Sector Fact Sheet
Joint Members' Visit to ARTC Model Factory (26 June)
37th SIAA Annual General Meeting
Monetize your Product Development and Transform the Business Model (4 July)
Visitors from Tianjin Smart City Research Institute and CITIF
Mission to Switzerland and Germany with DPM Heng Swee Keat (May 2019)
Embracing The Rise of IoT In Southeast Asia
IMDA – Digital Participation Pledge
Singapore Pavilion in 2019/2020, join us now!
UK TECH SECTOR FACT SHEET

Find out how UK technologies and services can support your business in 2019 by reading our specialist report on the UK's leading innovations.

Highlights of the report include:

Ground-breaking technologies in fintech, healthtech, education, autonomous vehicles, cyber security and more.
Thriving conditions for tech businesses across England, Northern Ireland, Scotland and Wales.
Examples of successful UK-Asia tech partnerships.
Ways the UK is tackling global challenges such as sustainability, climate change and ageing populations.

SOFTWARE IP PROTECTION, LICENSE AND DELIVER YOUR SOLUTIONS (4 JULY)

Gemalto, Matrix Invent and SIAA co-organised this workshop to create the awareness amongst our members on software monetization and how this would help to grow their business and have the flexibility to change the business model in this digital age. 3 speakers from China, United Kingdom and Hong Kong talked about digital transformation and share insightful case studies of Sauter in Building Automation as well as Casio on their Digital Transformation journey.

"We are extremely happy with the outcome of the workshop; it had helped us verified the market readiness and receptiveness of the industry to our solutions. We would like to thank SIAA for their professionalism in managing this!" Ms Kaoru Shima, Senior Field Marketing Manager of Gemalto expressed.

JOINT MEMBERS' VISIT TO ARTC MODEL FACTORY 26 JUNE 2019

SIAA and SSIA held a Joint Members visit to ARTC Model Factory to learn about the focuses on disruptive technologies, primarily industry 4.0 technologies, that can transform factories and industrial operations to be more efficient and competitive. It is also to foster collaboration between private sectors and research institutions and also give our members time to interact.

The ARTC Model Factory Offers a state-of-the-art manufacturing facility equipped with industrial machines and digital systems through an initial partnership of over 20 industry and public sector research partners.

For more information: https://www.a-star.edu.sg/artc/PROGRAMMES/Model-Factory-ARTC

37TH SIAA ANNUAL GENERAL MEETING

37th SIAA Annual General Meeting was held on 23 May at Trade Association Hub. At the AGM, Ms Poh Bee Ling, Director of Agri- Technology & Food Innovation in Singapore Food Agency presented on Agritech and Urban Farming in Singapore.

It gave information of possible new business opportunities for members to apply Automation, IoT & Robotics in this sector which Singapore government is looking to develop. An immediate follow up development from here was business matching with a local farmer who was looking to have solutions to monitor and control the condition in his greenhouse.

MISSION TO SWITZERLAND AND GERMANY WITH DPM HENG SWEE KEAT (MAY 2019)

Vice President of SIAA, Mr Cheong Siah Chong accompanied DPM Heng Swee Keat together with 4 other TAC leaders from SMF, SGTech, SPETA and SBF.

The visit focused on corporates or institutions that are good showcases of innovation and productivity, as well as Research & Development entities. In Germany, Enterprise Singapore made special arrangements for the TAC leaders to visit the German Association for Small and Medium-sized Businesses as well as Centre for Digital Transformation in Berlin.

This trip with DPM has sparked plans for the association to work closer together to serve our members, the industry and Singapore.